The Origins of Sound Qualities - Course Curriculum
The Origins of Sound Qualities interactive PDF audio production course presents a 16 bit, 44.1 kHz WAV audio study of the complete signal path. It does so in an interactive PDF based format that employs virtually every style of music.
The "Producer's Edition" of the course consists of 40 learning modules, divided into three parts which are delivered in a single PDF download. PART I of the PDF includes a link to a brief online test where you have the opportunity to ask questions. You can study at your own pace. The embedded "click-to-play" audio linked to text is a feature that ensures the information is delivered in an accurate, streamlined, and engaging manner. Some modules include embedded click-tp-play videos.
PART I begins by separating the recording signal path into 11 categories of components that can affect the sound quality. Then you'll study the topics of playback systems and ways of listening. PART I ends with a series of audio monitor tests you can perform to gauge the performance of your playback systems. PART I builds a foundation for a more objective study of the engineering content in PART II and production content in PART III. All of the Focussed Courses include the Introduction, PART I, MODULE 22 and selected modules from the Producer's Edition.
The Origins of Sound Qualities audio production course – Curriculum (Producer's Edition)
Introduction
Course premise, results and logistics
Parts and Learning Modules
—————— PART I – Audio Prerequisites
MODULE 1 – The Components that Comprise a Complete Signal Path
MODULE 2 – Playback Systems and Listening
MODULE 3 – Accurately Studying The Complete Signal Path
—————— PART II – Engineering – Audio Gear Formats and Designs
MODULE 4 – Analog / Digital Mixer Comparisons
MODULE 5 – Digital / Analog Recorder Comparisons
MODULE 6 – Microphone Preamp Comparisons
MODULE 7 – Solid State / Tube, Preamps and Compressors
MODULE 8 – Home Computer / Pro Digital Recorder
MODULE 9 – 24 bit / 16 bit, digital bit depths
MODULE 10 – Microphone Comparisons
~ACOUSTICS AND REVERBERATION~
MODULE 11 – Ambient hallway without  / with acoustical treatments
MODULE 12 – Sound source recorded indoors / recorded outdoors
MODULE 13 – Acoustically treated / untreated home recordings
MODULE 14 – Drum room mics on / drum room mics off
MODULE 15 – Room mics / hardware reverb
MODULE 16 – Room mics / native plugin reverb
MODULE 17 – Hardware reverb / native plugin reverb
~INSTRUMENTS AND MODELING~
MODULE 18 – Three real guitar amps / three modeled amps
MODULE 19 – Real guitar amp / modeled guitar amp with matching EQ
MODULE 20 – Standard student violin / 1708 Stradivarius violin
MODULE 21 – Drum Workshop drums / Pearl Export drums
——————– PART III – Production
MODULE 22 -Home studio / Commercial Studio – production overview
~MASTERING~
MODULE 23 – Unmastered / Mastered
MODULE 24  – Native plugins / Hardware, mastering loudness LUFS meters
~ELEMENTS OF PRODUCTION~
MODULE 25 – Audio Production Overview, Theory and History
MODULE 26 – Arrangement "A" / Arrangement "B"
MODULE 27 – Execution – Bassists and Bass Guitars
MODULE 28 – Execution – Drummers
MODULE 29 – Engineering Drum Tracks and Mixes
MODULE 30 – Drummer "A" / Drummer "A" (engineering consistency)
MODULE 31 – Original bass and guitar parts / Re-arranged bass and guitar parts
MODULE 32 – Vocals / Vocals edited and tuned
Elements of Production – Summary and Caveats
~PLAYBACK FORMAT COMPARISONS~
MODULE 33 – CD / Vinyl recordings
MODULE 34 – CD / MP3 recordings
~CABLES AND CONNECTORS~
MODULE 35 – Whirlwind-Whirlwind / Canare-Mogami mic cables and snakes
MODULE 36 – Instruments recorded with Whirlwind guitar cable vs. Other cables
MODULE 37 – Whirlwind guitar cable / Other cables, turntable into preamp
MODULE 38 – Short oxygen free wire / Audio connectors, turntable into preamp
MODULE 39 – Short  / Long signal paths
MODULE 40 – Reference Tracks
~COURSE CONCLUSION, RESOURCES AND CREDITS~
The Origins of Sound Qualities – Producer's Edition – curriculum end
PDF bookmarks and word search allow quick location of topics
PART I covers fundementals such as the speakers you're listening to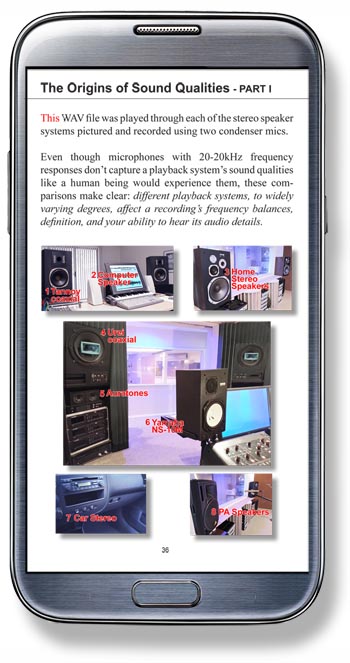 PART II covers all the audio gear and acoustics
PART III covers Elements of Production!